Allium sativum i.e Garlic belongs to the genus onion. It is closely related to onion, shallot, leek, chives. It is a native of Central Asia and is used as a seasoning all over the world. Garlic has the usage history of several thousand years as food flavoring ingredient and also in traditional medicine. In India, we are using garlic to flavor our curries, soups etc. The sharp flavor is garlic is due to the phytochemicals produced by it. Allicin is a sulphur containing compound that is present in garlic has anti-bacterial and anti-fungal properties.
For obtaining the health benefits many people consume the raw garlic or garlic with warm water in an empty stomach. It can also be consumed as garlic tea with honey and lemon.
Garlic Tea:
Garlic tea is a best alternative for people who cannot consume regular tea due to high blood pressure or high blood glucose levels. As the garlic contains both anti-bacterial and anti-fungal properties it prevents any infection caused by them. It not only improves the immune health but also reduces the cholesterol levels in the body and boost the energy.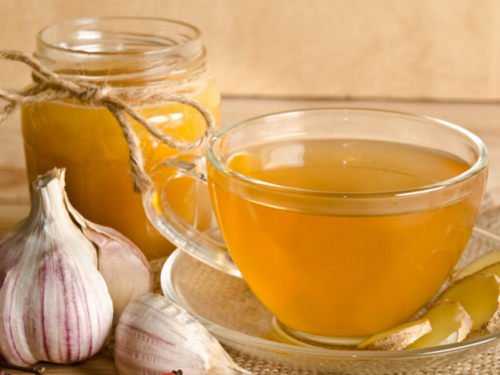 Why Garlic Tea is good for Hypertension?
Deficiency of Sulphur in the body might play a part in causing hypertension and it can be reduced with the supply of organosulphur compounds derived from garlic.
Allicin present in garlic prevents the production of angiotensin II which is responsible for increasing the blood pressure by causing the contraction of blood vessels.
 Allicin also increases the production of H2S and NO which is important for regulating the blood pressure level.
The anti-inflammatory and antioxidant properties of garlic prevents the rise in blood pressure.
Why Garlic Tea is good for Type II Diabetes?
Amino acid Homocysteine is a risk factor for diabetes and heart diseases which can be lowered by intake of garlic.
Inflammation of the body due to diabetes can be reduced by the intake of garlic.
Diabetes raises the bad cholesterol level (LDL) in the body which can be lowered by the intake of garlic.
The anti-bacterial and the anti-fungal property of the garlic helps in reducing the frequent infections due to diabetes.
Blurred vision due to diabetes can be decreased by the intake of garlic
Preparation of Garlic Tea:
Garlic tea can be prepared easily with the ingredients which are available in our home.
Take a cup of water in a pan, add finely chopped garlic to it and let it boil
Turn off the flame after 5 minutes and add honey, lemon juice to it
For enhancing the flavor you can also add cinnamon, ginger to it
Drink a cup of garlic tea everyday in the morning for good health.