MetroMedi is the fastest growing Online Pharmacy, eHealth & Wellness store based out of South India (Hyderabad). At Metromedi they make a wide range of prescription medicines and other health products conveniently available all across India. Even Two and Three tier cities and Rural villages can now have access to the latest products, all medicines through Metromedi.com. They are currently serving 150000 Customer bases in Telangana, Karnataka & Andhra Pradesh.
On their Customers request, MetroMedi is now coming up with a great notion called "MetroMedi Relief" that helps for online consultations on many health issues and many more.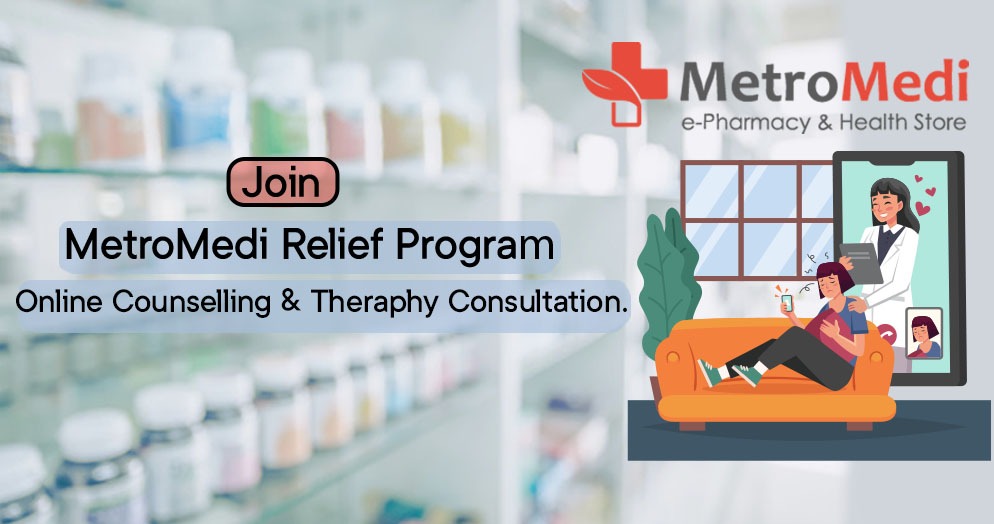 This Metromedi Relief program for Online Counselling especially Psychologists, Therapists, Andrologists, Endocrinologists, Diabetes specialists, nutritionist etc helps customers to select the best medication for their specific needs. We believe that everyone deserves access to personalized, non-judgmental mental health care. Improving access to high-quality mental health care for health plans. Our coordinated care model enables us to provide integrative, comprehensive care for our patients which leads to significant improvement in clinical outcomes.
How We works –
Benefits of Relief Programme for Health Care Providers
Reduced overhead expenses: Providers who offer telemedicine services may incur fewer overhead costs. For example, they can attend from their home or own clinic space only.
Additional revenue stream: Clinicians may find that telemedicine supplements their income because it allows them to provide care to more patients in their free time.
Convenience: Telemedicine allows Health care providers to access care in the comfort and privacy of their own home or Clinic.
Less exposure to illness and infections: When providers see patients remotely, they do not have to worry about exposure to any pathogens the patient may carry.
Patient satisfaction: When a patient does not have to travel to the office or wait for care, they may be happier with their provider.