ARE YOU FEELING STRESSED? Get Connected with us – MetroMedi Relief
STRESS is the response of our body to any particular situation, event, or disturbing thought. It is a feeling of emotional and /or physical TENSION. STRESS is the reaction of our mind and body to any STRESSOR as a part of "FIGHT OR FLIGHT RESPONSE". STRESS can show up various symptoms that can be mental, emotional, and physiological.
Steps to Deal with Stress
STRESS hampers with our thinking ability. We tend to forget to look at the things/situations the other way. A STRESSED person will always make the wrong choices and decisions. STRESS is a response of our body to any STRESSOR. It is a part of the FIGHT – FLIGHT response of our body. This condition needs to be intervened medically and through therapy. But apart from this one need to make a few lifestyle changes to deal with STRESS.
Accept the way, life has come
Life throws googly at us and we have to play our game that way. Mostly many situations occur unexpectedly an unplanned. Instead of cribbing about the situation, accept it, and try to find positive ways to deal with it.
Talk to your family
Take the support of the family and your loved ones. This is very important. Your family is nonjudgmental towards you. They will empathize with you and will accept you for what you are. If not, at least they will give you suitable advice to get over STRESS.
Take up sports and yoga
Any physical activity releases certain hormones that help to deal with STRESS. Join a club to learn the sport of your choice – be it any sport. This will bring a change in the attitude towards life.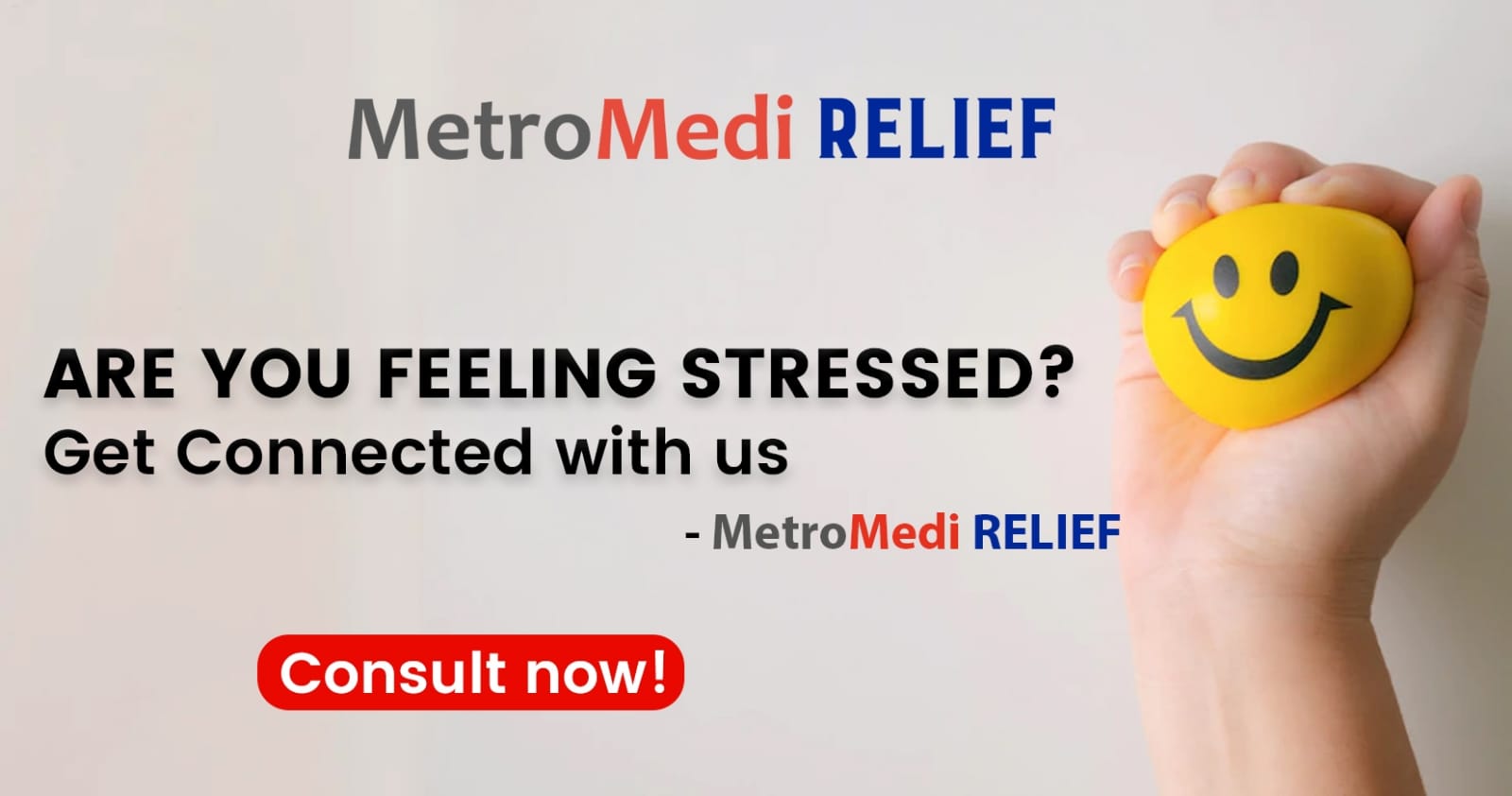 Take the help of MENTAL HEALTH EXPERT
Getting MetroMedi Relief professional help makes one heal faster and the STRESS can be handled very well. Professionals help you to understand the problem in a better and in a different way and they are nonjudgmental too. They can also prescribe medicines.
Talking to ONLINE COUNSELORS also gives the same relief from STRESS. ONLINE COUNSELORS are trained MENTAL HEALTH EXPERTS, who help one to deal with the PSYCHOLOGICAL woes. It makes it rather easy to talk to ONLINE COUNSELORS as it is a virtual session. Hence the fear of facing and speaking to someone one unknown is taken off.
But one can avail the services of the Online Counselling while being at the comforts of home.
Contact us today to book a session, for PHONE COUNSELLING, VIDEO COUNSELLING, E-MAIL COUNSELLING, and CHAT COUNSELING.
CALL US TODAY!!  – To make an appointment now.